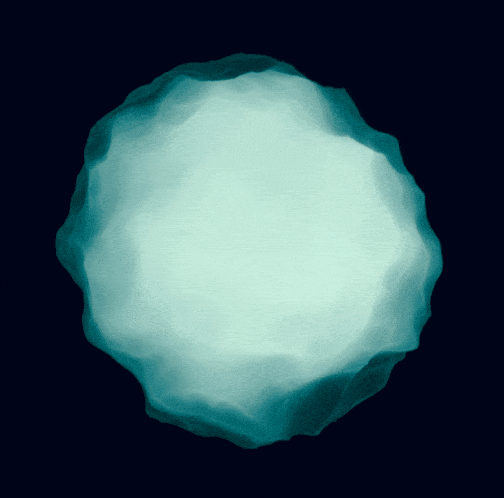 We can and we may, as it were, jump with both feet off the ground into or towards a world of which we trust the other parts to meet our jump—and only so can the making of a perfected world of pluralistic pattern ever take place. Only through our precursive trust in it can it come into being.
Introduction in the form of a pitch and a loop
"Ecological awareness is weird: it has a twisted, looping form. (…) Ecological awareness is a loop because human interference has a loop form, because ecological and biological systems are loops. And ultimately this is because to exist at all is to assume the form of a loop.
[T]here are layers of attunement to ecological reality more accurate than what is habitual in the media, in the academy, and in society at large. These attunement structures are necessarily weird."
—
Timothy Morton, Dark Ecology: For a Logic of Future Coexistence, Columbia University Press, New York, 2016, p.6, 159.
The Sphere As Lived Abstraction of Value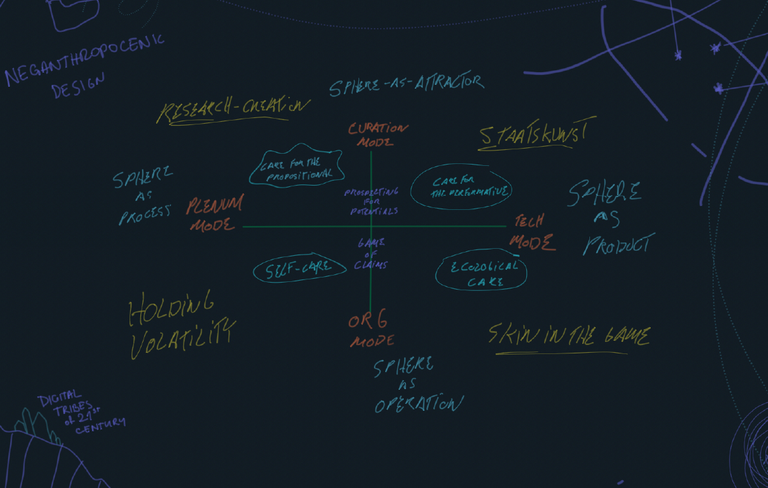 Leverage is the way we aim to give our fictitious projections a self-fulfilling, performative quality (…) leverage involves the effort to position oneself as the focal point of the interactive logic of speculation, as an attractor in the social field.(8)
—
Martijn Konings, Capital and Time: For a New Critique of Liberal Reason, Stanford University Press, Stanford, 2018, p.13-14.
"Optionality of the kind that finance illustrates is more broadly about synchronizing heterogeneous temporalities, indexing heterogeneous cultural discourses, tokenizing the relative rates of change within and among heterogeneous systems of valuing and ranking—the list could go on. Such forms of heterogeneity no longer need to be reduced to a General Equivalent if liquidity can be added through options that can index their changes to those in other, disparate, value realms." (my emphasis) (9)
—
Robert Meister, Justice Is an Option. A Democratic Theory of Finance for the 21st century, University of Chicago Press, Chicago, 2021 (quoted from the yet unpublished manuscript).
"A magical chain brings together plant life, pieces of organs, a shred of clothing, an image of daddy, formulas and words: we shall not ask what it means, but what kind of machine is assembled in this manner—what kind of flows and breaks in the flows, in relation to other breaks and other flows." (10)
—
Capitalism and Schizophrenia I: Anti-Oedipus, p.181.
The Precursive Art of Imagineering Flows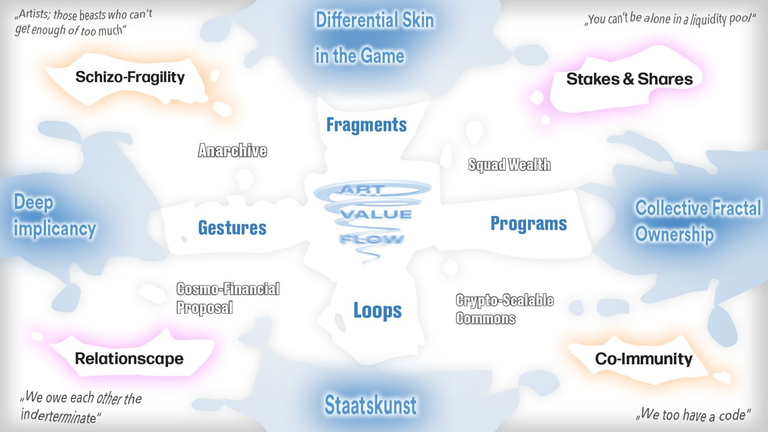 The Sphere as Digital Soul Searching
Mankind lies groaning, half crushed beneath the weight of its own progress. Men do not sufficiently realize that their future is in their own hands. Theirs is the task of determining first of all whether they want to go on living or not. Theirs the responsibility, then, for deciding if they want merely to live, or intend to make just the extra effort required for fulfilling, even on their refractory planet, the essential function of the universe, which is a machine for the making of gods.
—
Henri Bergson, The Two Sources of Moral and religion
"The capacity to aspire is a navigational capacity. The more privileged in any society simply have used the map of its norms to explore the future more frequently and more realistically, and to share this knowledge with one another more routinely than their poorer and weaker neighbors. The poorer members, precisely because of their lack of opportunities to practice the use of this navigational capacity (in turn because their situations permit fewer experiments and less easy archiving of alternative futures), have a more brittle horizon of aspirations."
—
Arjun Appadurai, The Future as Cultural Fact, Verso, New York, 2013, p.188–189.
---
"It strikes me that our entire social organism—its economy, its social policy, its civil order—that these don't implode (…) that these are held in alignment, by a yoking to this notion of the Future; and humanity, its gazed fixed on this apparition hovering just over the horizon, is thus herded along the requisite channels, its anarchic inclinations kept in check. Certainly, each brief the Company worked on, every pitch we made, involved an invocation of, a genuflection to, the Future: explaining how social media will become the new press-baronage, or suburbia the new town centre, or how emerging economies would bypass the analogue to plunge straight into the post-digital phase—using the Future to confer the seal of truth on these scenarios and assertions, making them absolute and objective simply BY placing them within this Future: that's how we won contracts. " (My emphasis)
—
Tom McCarthy, Satin Island, Penguin Random House, London, 2015, p.104-105.